Services
We Offer Certified ASL Interpreters to Clients Across the US
Interpreter Services
Here at All American Interpreters for the Deaf, Inc., we specialize in providing 100% on-site American Sign Language interpreting services. We believe that ASL is a complex, visual language that is best understood and interpreted with live face-to-face interaction. The communication and connection that a live interpreter offers to the client should not be compromised for convenience. Technology has proven to be an adequate substitute in some cases; however, we do not strive to be adequate. We strive for excellence!
Education
Every child deserves the right to freely access their educational environment. With a warm and professional approach, our interpreters and facilitators will provide that access. We will ensure seamless communication between teacher and student as well as peers and campus activities. We will create an environment where all things auditory become visual so that every student has an equal opportunity to participate in learning. We are committed to ensuring that Deaf students have the communication resources they need to be successful in the classroom.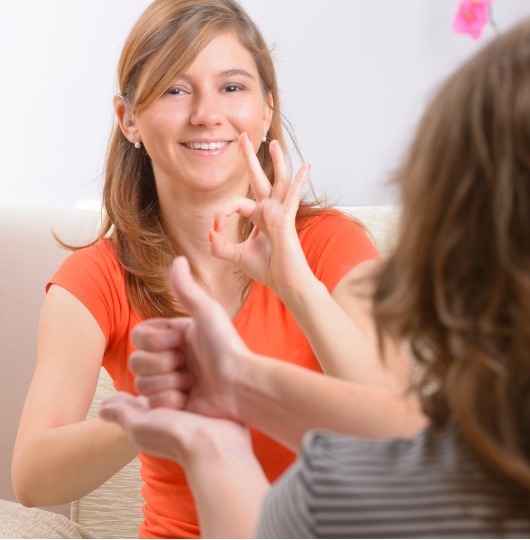 Medical
When it comes to healthcare, privacy and accuracy are essential. Our licensed professional Sign Language interpreters maintain this confidentiality and provide this accuracy, giving you the respect and peace of mind that every patient and doctor deserves.
Business
In the board room or on the factory floor, no matter where you work, a trained professional interpreter can facilitate communication. Maximizing the performance of all of your employees and business partners is your goal – ensuring that you can work together and understand one another while achieving the goals of your company is our main priority.
Special Events
Concerts, rallies, theaters, political campaigns, these are just a few of the venues that our interpreters are trained and ready to work in! Be sure that you reach everyone in the audience by providing ASL services. Let us help you reach beyond the communication barrier!
And More
No matter where or when – we are here to offer services 24 hours a day, 7 days a week, 365 days a year! We have experience and quality "on hand" every time you need us.